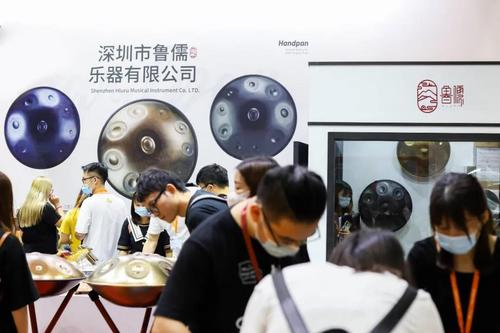 August 21~24, 2020,
The four-day 2020 17th Guangzhou International Musical Instrument Exhibition
Grandly held in the Canton Fair Complex.
In this musical instrument exhibition,
Luru musical instruments presented in a brand-new image
Brings an in-depth music experience to enthusiastic audiences
Location: Canton Fair Complex, Area B-Hall 9.1-G16
展会现场
2020 Hluru China
As one of the well-known domestic industry events, Guangzhou International Musical Instruments Exhibition has consistently adhered to pioneering and innovation, keeping up with industry development trends and hotspots, building an international one-stop business platform in an all-round way, helping to promote the development of domestic music culture, and promoting the music industry and The integrated development of other industries provides unlimited opportunities.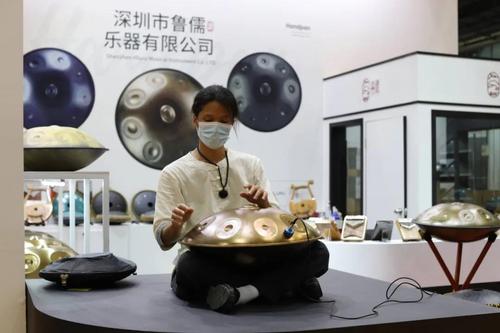 手碟系列
The hand discs exhibited this time are all newly developed products of Luru Musical Instruments. They are made of high-standard workmanship and materials. Both the appearance and the sound quality of the products can reach the standards of foreign professional hand discs. The hand discs are divided into nine-tone and ten-tone styles, both of which are made of high-end nitrided steel and stainless steel. Under the requirements of international standards, each hand-produced disc ensures clear overtones and stable timbre, allowing you to be 100% immersed in the mysteriously healed disc sound~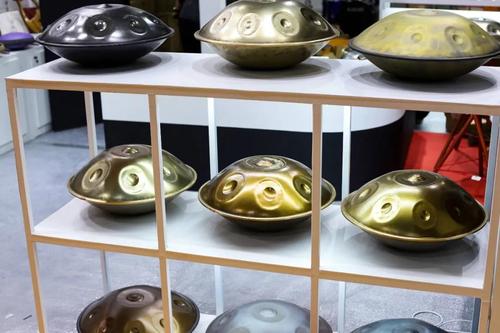 Ethereal drum series
As Luru's patented product, the Ethereal Drum is the main highlight of this exhibition. It is divided into Type A copper dish drum, Type B carbon steel drum, Type C lotus drum, Huashu series Ethereal drum and so on. Ethereal drum is a "rookie" among Chinese national musical instruments. With the promotion of Luru instruments, more and more people are aware of the Ethereal drum and are attracted by its ethereal and transparent sound.
In order to let more people know about this Chinese national musical instrument, as well as to promote traditional Chinese culture and bring national music to the world, Luru Musical Instruments has been working hard to improve the tutorials and music scores of the Ethereal Drum, and continue to carry out the practice of the Ethereal Drum. Innovation and improvement help the vast number of ethereal drum lovers to create more ethereal and beautiful music.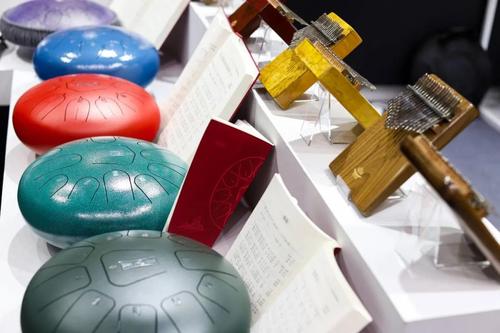 Thumb piano series
The most popular musical instrument in the exhibition is the Luru thumb piano. This series of products has been recognized by the vast number of experience users, and their tone, material, appearance, etc. are very affirmed. The thumb pianos developed by Luru are all made of rare woods such as black walnut, golden nanmu, safflower, acacia, maple, etc. The wood grain is elegant in color and texture, beautiful in texture, and the sound is crisp and moving when played. Pure and full~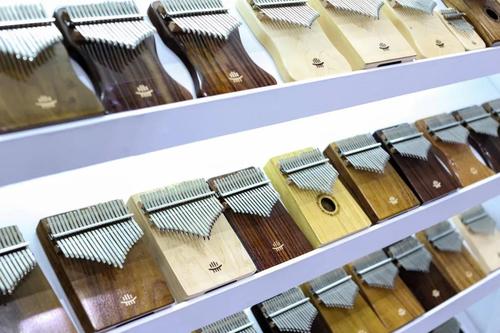 Wonderful moment
Wonderful Monent
The charm of music lies in its ability to inadvertently bring happiness and touch to people. At the exhibition site, hand-dish artist Yang Zi's performance attracted many guests to stop by. It also attracted the folk music master Fang Jinlong to visit and guide. During the period, Lu Ru Musical Instrument and Fang Jinlong had a friendly exchange, and in the future, they will work together to promote Chinese national musical instruments and carry forward the Chinese national culture.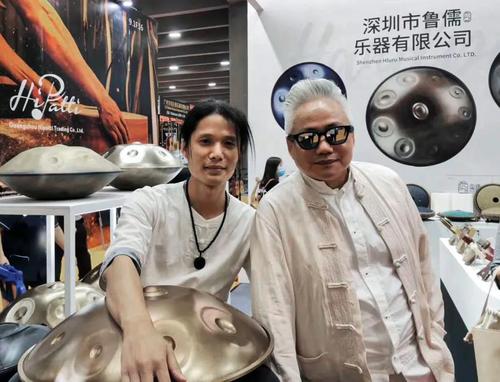 look forward to,
The next music exhibition,
We meet again.